Ariat is a favorite among The Farm House customers, and we highly recommend Ariat show clothes for the brand's consistent quality, comfort, and durability. When showing a horse, performance and presentation are both important. Ariat show clothes stand out from the competition in style while supporting a rider's equitation. The brand regularly applies innovation and creativity to refine its products and offer new, stylish show clothes for every type of English rider, whether in hunting, jumping, or dressage. 
We've curated a list of the top Ariat show shirts, coats, breeches, riding boots, and accessories for the upcoming season to help you look and perform your best. 
12 Best Ariat Show Clothes 
Ariat Show Shirts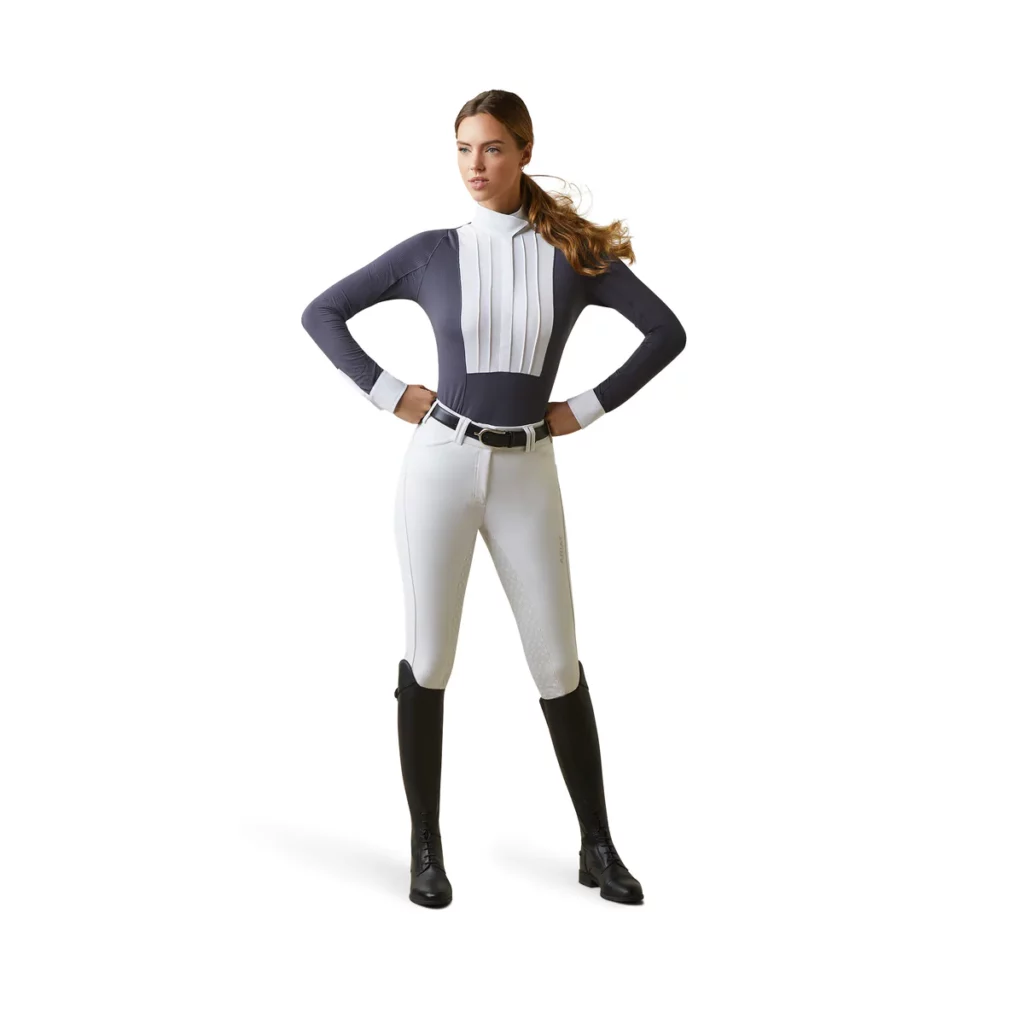 Cost:$109.95
Colors:White, periscope 
The Ariat Luxe show shirt is classic and elegant but also capable of wicking sweat and preventing odor to keep you looking clean and sharp. The white Luxe show shirt is the perfect option for any discipline, and the periscope is a bold and unique choice for jumping or dressage. This shirt features a subtle jacquard design and a wrap show collar.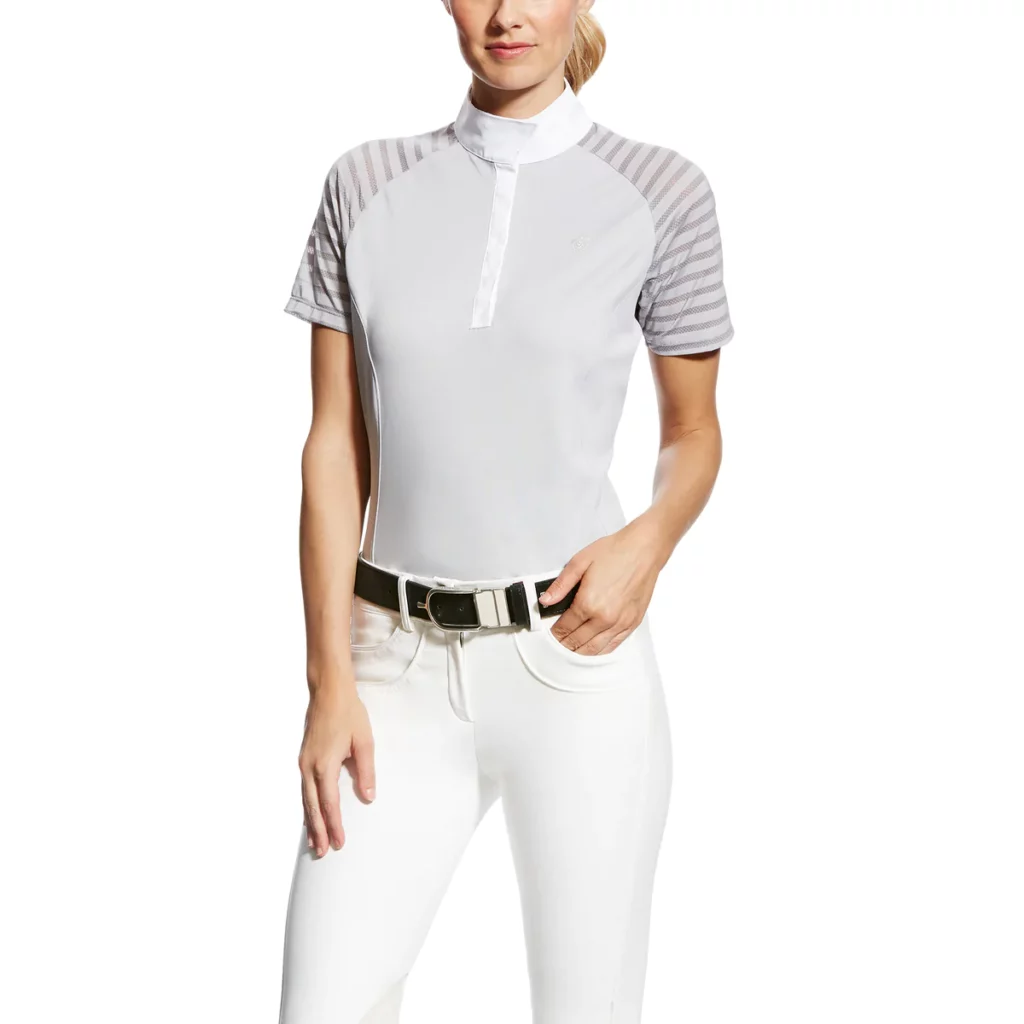 Cost:$64.95
Colors: White, grey, navy 
The Ariat Aptos show shirt is great for warm and sunny days in the ring. The shirt's ventilation is strategically mapped for airflow where you need it most, and its material provides UPF 50+ sun protection. The Aptos has a close but flattering fit and a comfy but not too snug snap-closure collar. You can also purchase the kid's Ariat Aptos show shirt in white or pearl grey dot. For male riders, the Ariat Men's TEK Long-Sleeve or TEK Short-Sleeve Shirt is a great sun-protective summer performance show shirt. 
Cost:$64.95
Colors: White
The Ariat Girl's Sunstopper Pro 2.0 is packed with performance features designed to keep your little one looking and feeling fresh in the saddle, the Showstopper Show Shirt is a stand-out for its ability to stand up to the heat. Raglan-cut sleeve and breathable mesh paneling enhance comfort.
Ariat Show Coats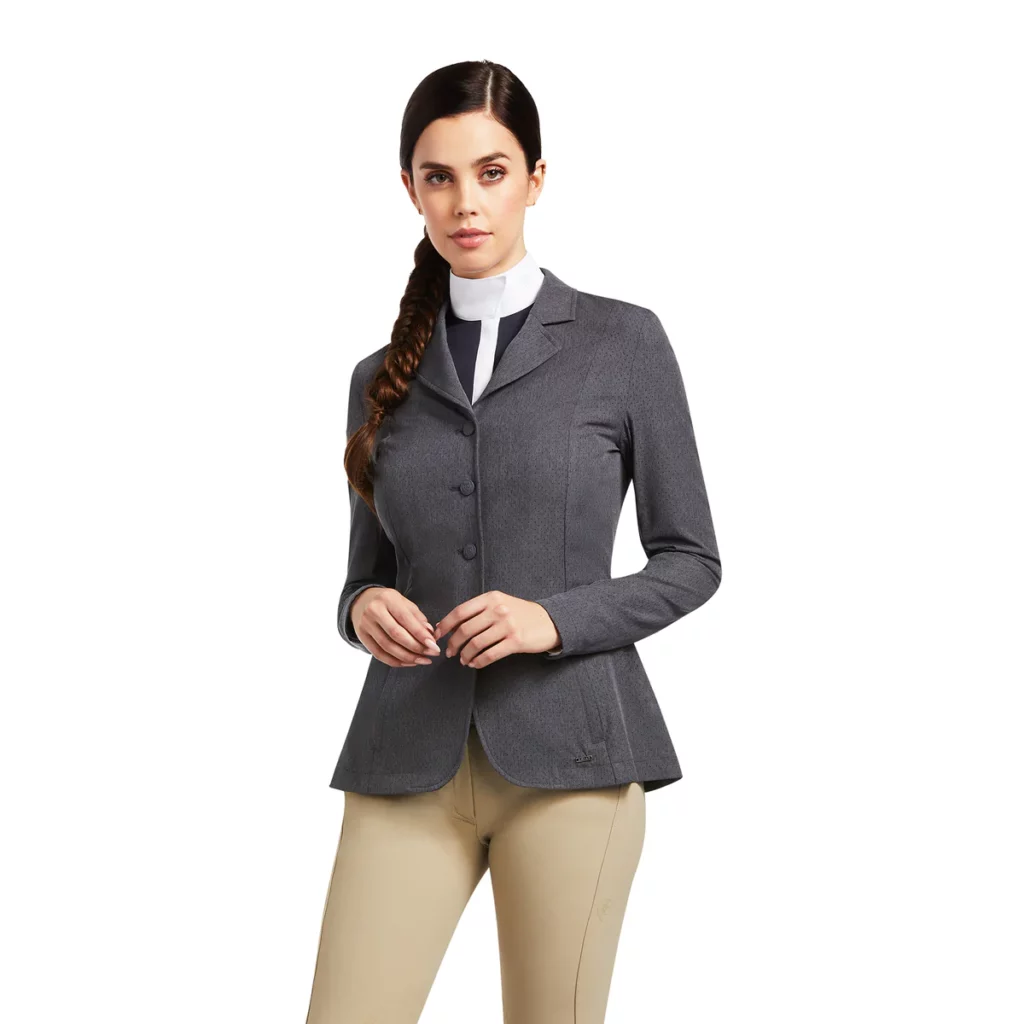 Cost:$299.95
Colors:Navy, heather grey 
You really can't go wrong with the Ariat Artico Exhale show coat–it's classic, clean-cut, and comfortable. This show coat is a must-have for riders of all experience levels in all disciplines and an essential piece for beginners just beginning to build their riding wardrobe. The mesh material is surprisingly light for a show coat, making it great to wear in any weather. It's contoured for a classy fit but not restrictive for comfort. And best of all, this show coat is machine washable. 
Shop the Kid's Artico Show Coat.
Ariat Breeches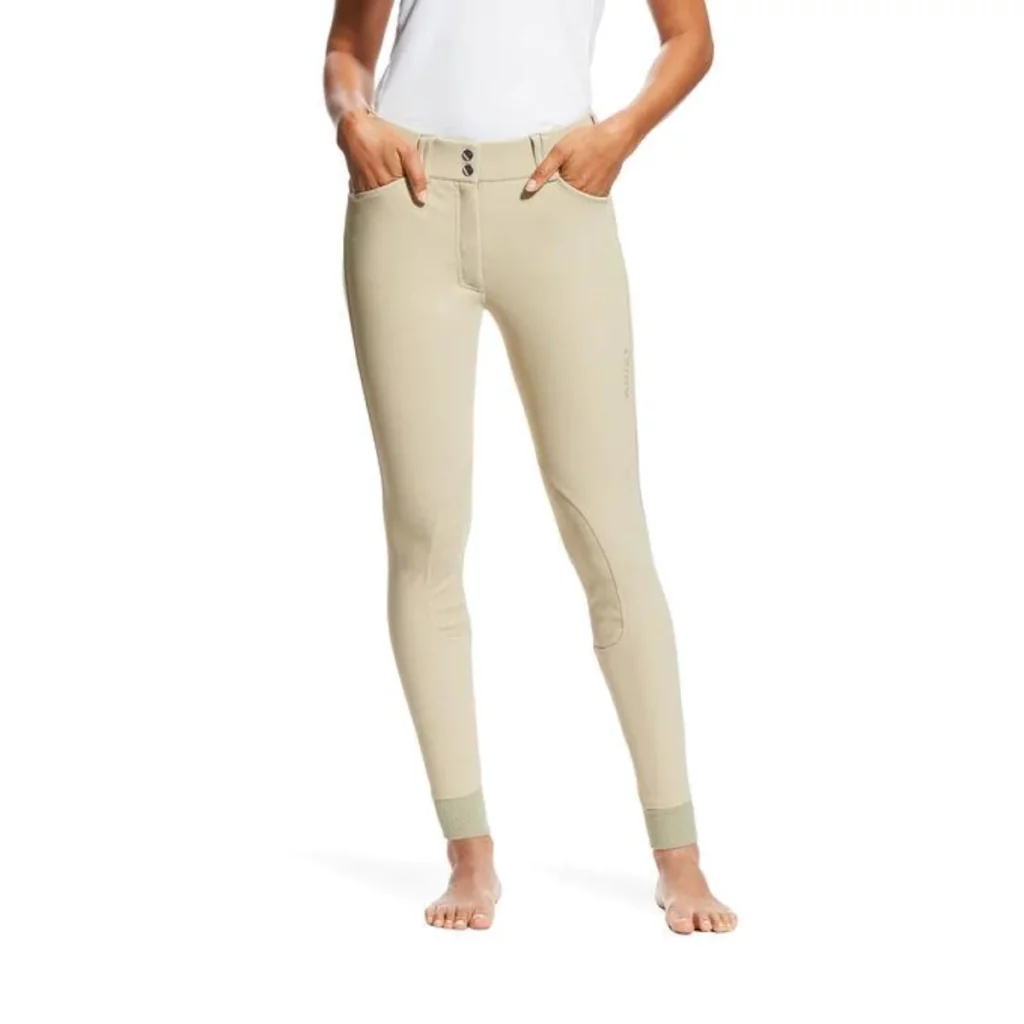 Cost:$159.95
Colors:Tan, white, navy, black, banyan bark, blue nights 
These Ariat breeches are a wardrobe essential for training and showing. They're designed with cooling technology that goes above and beyond regulating body temperature–it's also capable of lowering your skin temperature by 5 degrees Fahrenheit. The Ariat Tri Factor Breech has a structured core that's supportive and slimming, as well as a super stretchy and comfortable waistband. And breech's the knee-grip keeps you steady in the saddle. 
Shop the Men's Tri Factor Grip Knee Patch Breeches or the Youth Tri Factor Grip Knee Patch Breeches. 
Ariat Tall Boots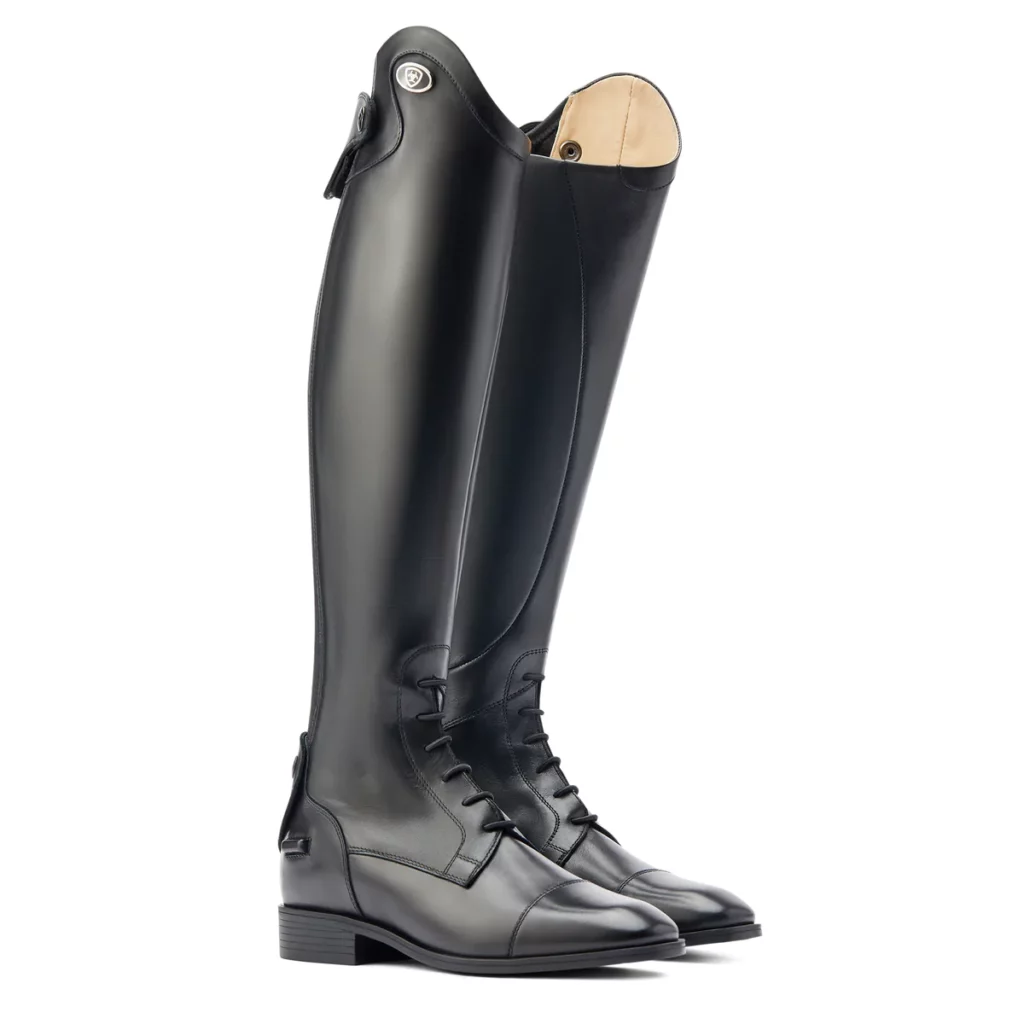 If you're looking for a riding boot to add wow factor to you riding outfit, the Ariat Ravello is sure to bring it. This hand-crafted boot, made from premium Italian calf leather, feels and looks luxurious. There's no need to sacrifice comfort for style with the Ravello–the cushioned insole and and mobility curve behind the knee provide comfort on or off your horse. The Ravello's Duratread sole won't wear out quickly, so you can enjoy wearing these boots for many years.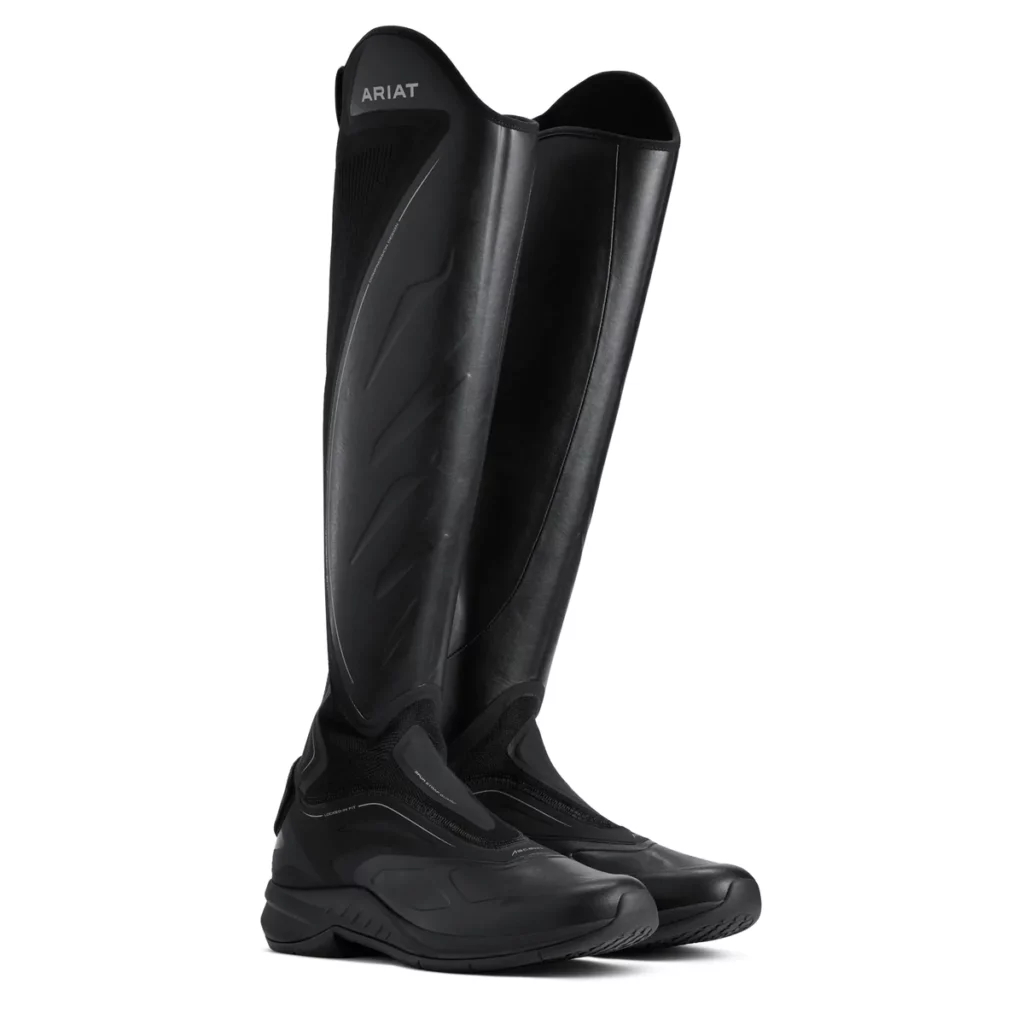 The Ariat Ascent is a performance boot at its finest. It fits like a sneaker and feels like a sneaker, and is lighter and more breathable than the traditional leather boot. If you're on your feet a lot between rides, this is the perfect boot for you. The rider-tested traction and shock-absorbing midsole aren't only great for riding, but they're also comfortable when caring for your horse or tackling barn chores. 
Learn why riders love the Ariat Ascent boot.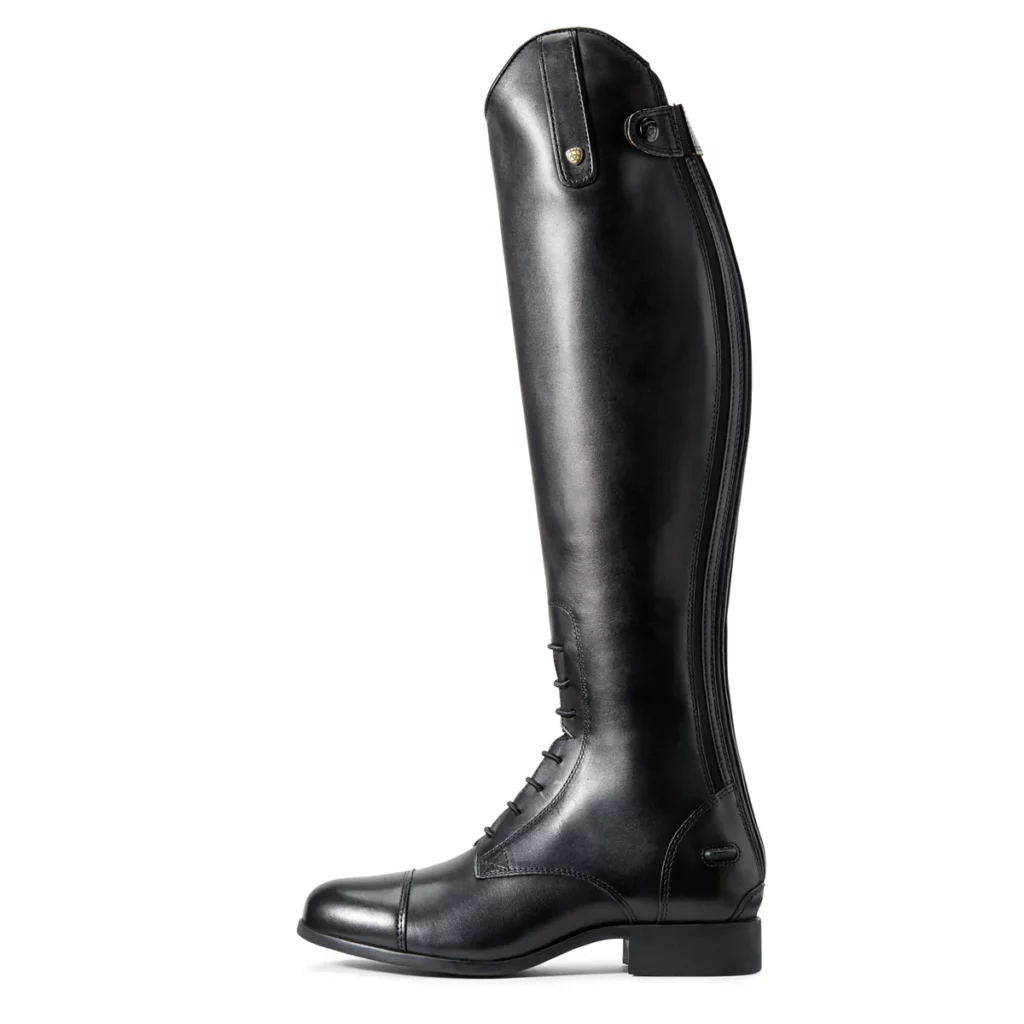 This list wouldn't be complete without our beautiful leather best-seller, the Ariat Heritage Contour II Field Boots. They check all the boxes that make boots great for competition–classic, durable, and stylish. The boot's contoured legs look distinguished in the stirrup, and the built-in moisture-wicking socks keep your feet refreshed while competing. 
Shop the Kid's Heritage Contour II boots or the Men's Heritage Contour II boots.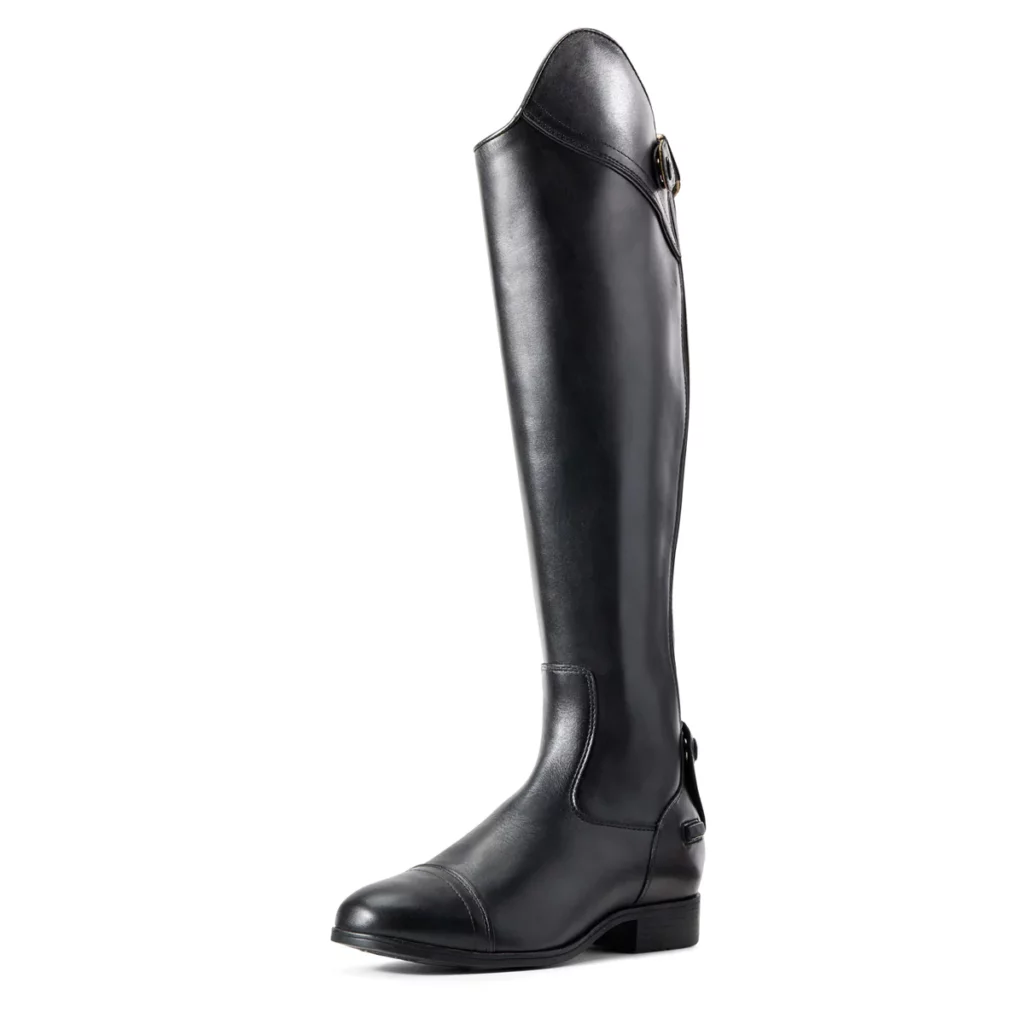 The Ariat Kinsley Tall Dress Boots are traditional, elegant, and stunning, perfect for making a statement in a hunter competition. The Kinsley boots are hand-crafted in durable full-grain leather with heel cushioning for comfort. From the Spanish cut topline to the superior traction zone sole, this boot is the perfect blend of sophistication and performance features. 
Learn how to care for your Ariat boots. 
You may also like: Equestrian's Guide to the Ariat V Sport Boot
Ariat Accessories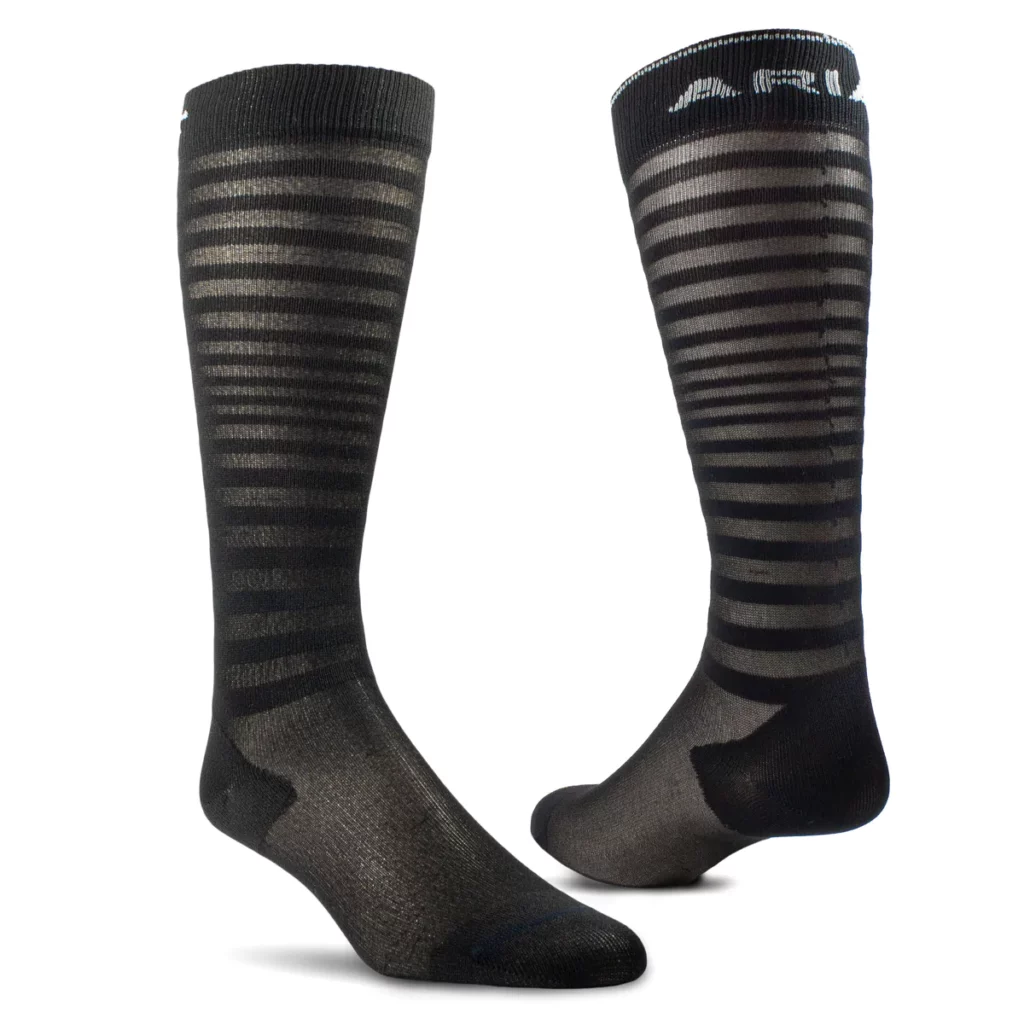 Cost:$15.95 
Colors:Black/grey stripe 
Like any good horse riding sock, the Ariat TEK Ultrathin socks won't compromise the fit of your riding boots. These Ultrathin socks are super strong and abrasion-resistant, so you can expect them to last you a while. They're also designed to prevent blisters and keep your feet dry, so your feet stay so comfortable that you don't think twice about your socks while riding.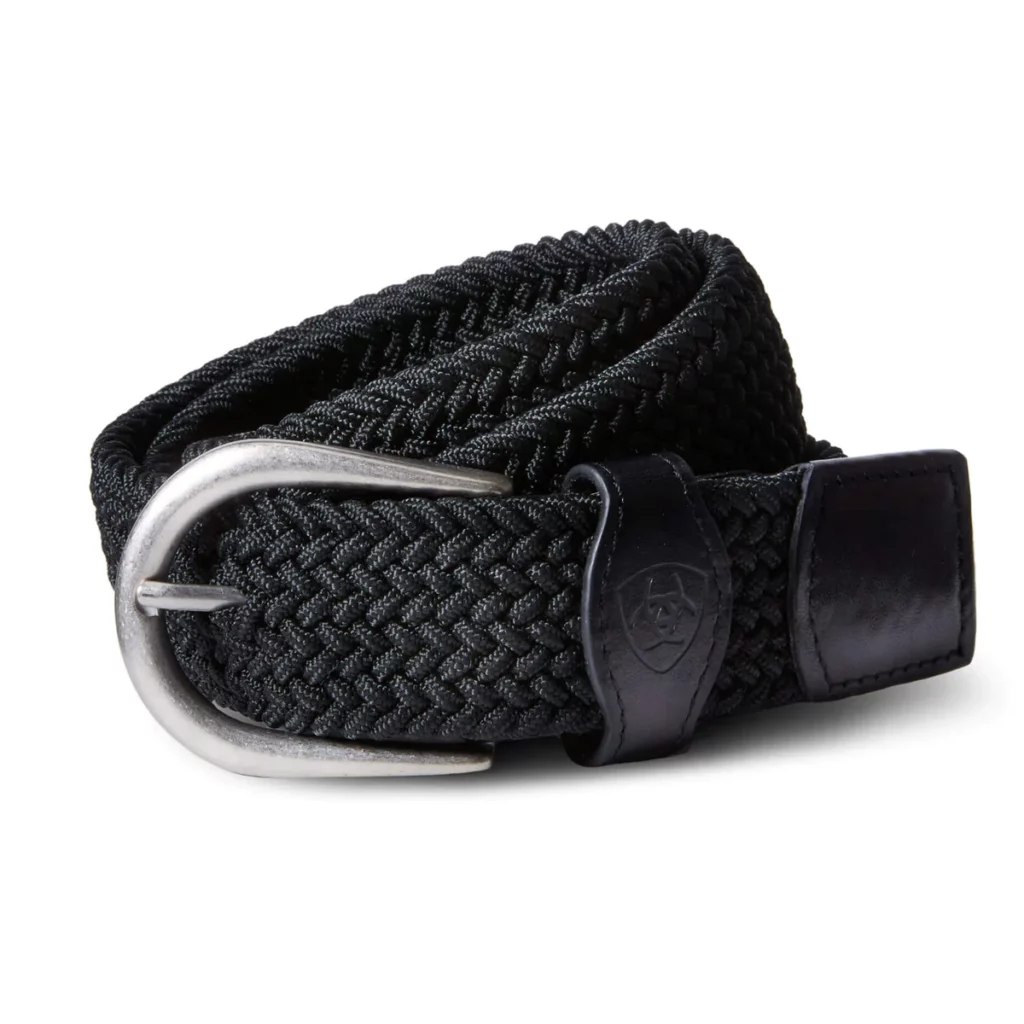 Cost:$64.95
Colors:Black, grey, navy
The Ariat One Rail Woven belt is the perfect finishing touch to your riding outfit for a polished look. It comes in three color options that will go with any of your show clothes.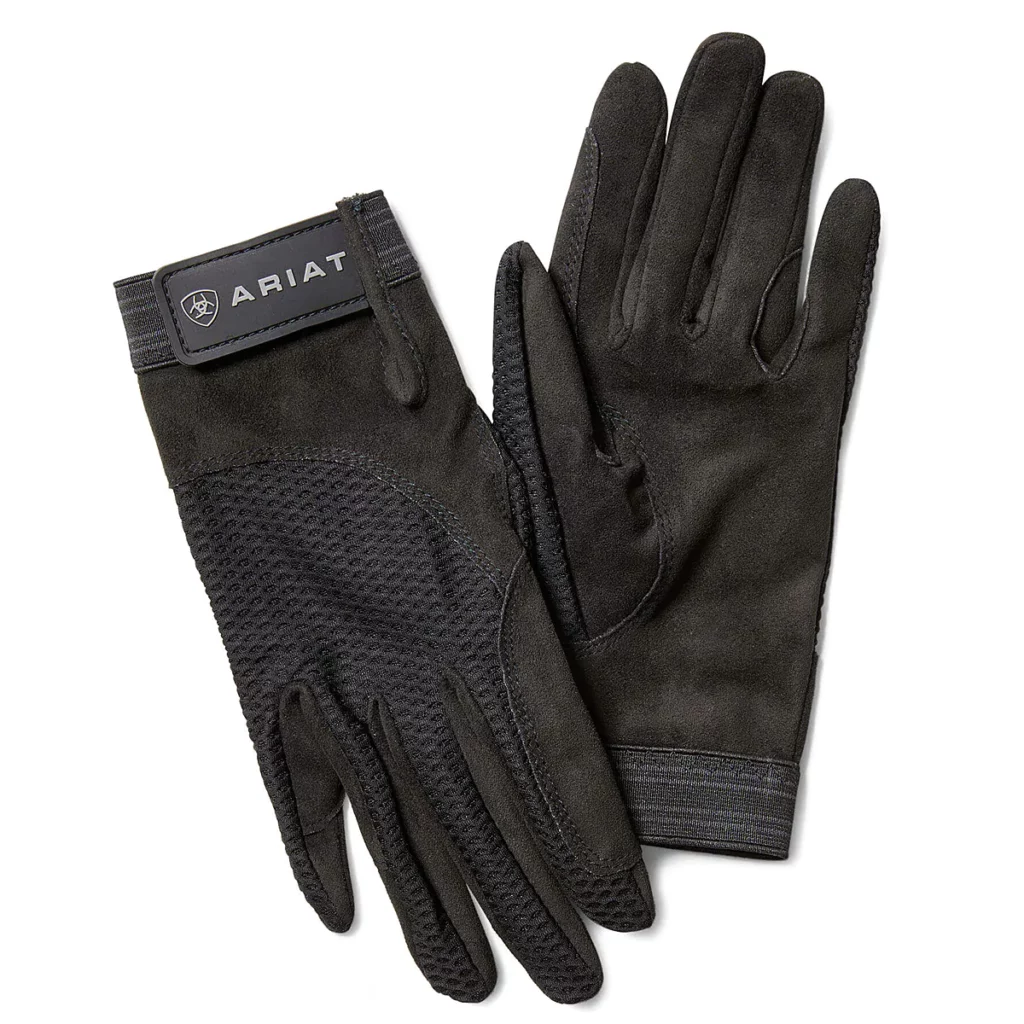 Cost:$34.95
Colors: Black 
The Ariat Air Grip Gloves keep your hands cool and your grip sturdy on the reins. The Stretch Tek Twill material provides comfort with a classic look, and the adjustable velcro closure allows you to customize the fit. 
When it comes to competition, the fit of clothes is more important than the cost. If your show clothes aren't the right size and fit, you won't look prepared to compete, no matter how much you invested in quality riding apparel. These Ariat sizing guides can help you find your fit and look your best in your new Ariat show clothes. 
There are many excellent Ariat show clothes not featured on our list. If you want more options, here are a few guides to other Ariat favorites. 
At The Farm House, we've helped outfit riders at all levels for competitions. If you have any questions on what you need for your discipline or in regards to sizing, give us a call at 864-457-3557, we'd love to help.