Head into this spring show season in style with new breeches and tights by Ariat. The Spring 2023 Ariat Lookbook features a range of classic favorites along with fresh and exciting apparel lines, including the Ariat Breathe Series. Layer up this spring with Ariat's supportive and breathable riding breeches and tights that will keep you comfortably stylish all season long.  
New Ariat Breeches Features & Colors for Spring
Get ready to add fresh style to your spring-season wardrobe with Ariat's Spring 2023 apparel. The classic Tri Factor Breeches come in a new color–Banyan Bark, a fresh and bold twist on "neutral." Ariat's also unveiled a new lightweight and breathable tight for cool and comfortable rides as warmer weather approaches. Be equipped for rides as the temperatures rise with Ariat's new lightweight and breathable riding tights from the brand-new Breathe Series. Ariat has also given the ESO, Ascent, and Halo Denim riding tights fresh features to keep you comfortable and looking sharp in the saddle.
New Ariat Spring 2023 Breeches 
Ariat Tri Factor Breeches 
The Ariat Tri-Factor line includes full-seat and knee patch breeches loved by riders of all levels. These breeches are designed for cool and classic comfort. 
Cost: $169.95
Colors: Banyan Bark, Deep Petroleum, Plum Grey 
The Tri Factor Grip Full Seat Breech is not only lightweight and slimming but also features cooling Freeze Point fabric that keeps you comfortable on rides. With added core and calf support, these breeches are perfect for anyone looking for a tailored look. Plus, they now come in the brand-new Banyan Bark color, to refresh your show look.
Cost:$189.95
Colors:Blue Nights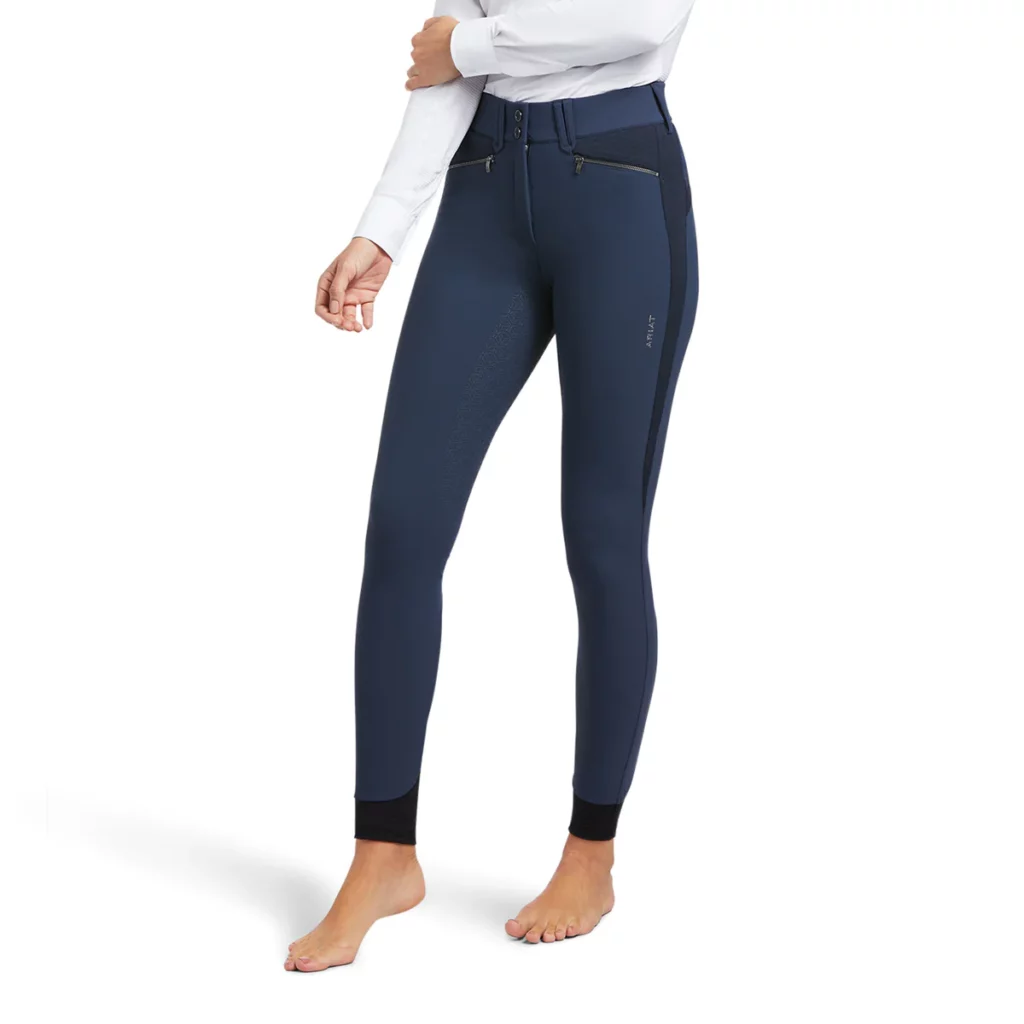 For those hot days in the show ring, the Tri Factor X Bellatrix breech is your go-to option. With Cooling Tech and Moisture Movement, you'll feel refreshed and ready to ride your best. The Bellatrix also boasts deep-rise compression, providing you with a high-waisted, structured look that slims your core and flatters your figure.
Cost:$159.95
Colors:Tan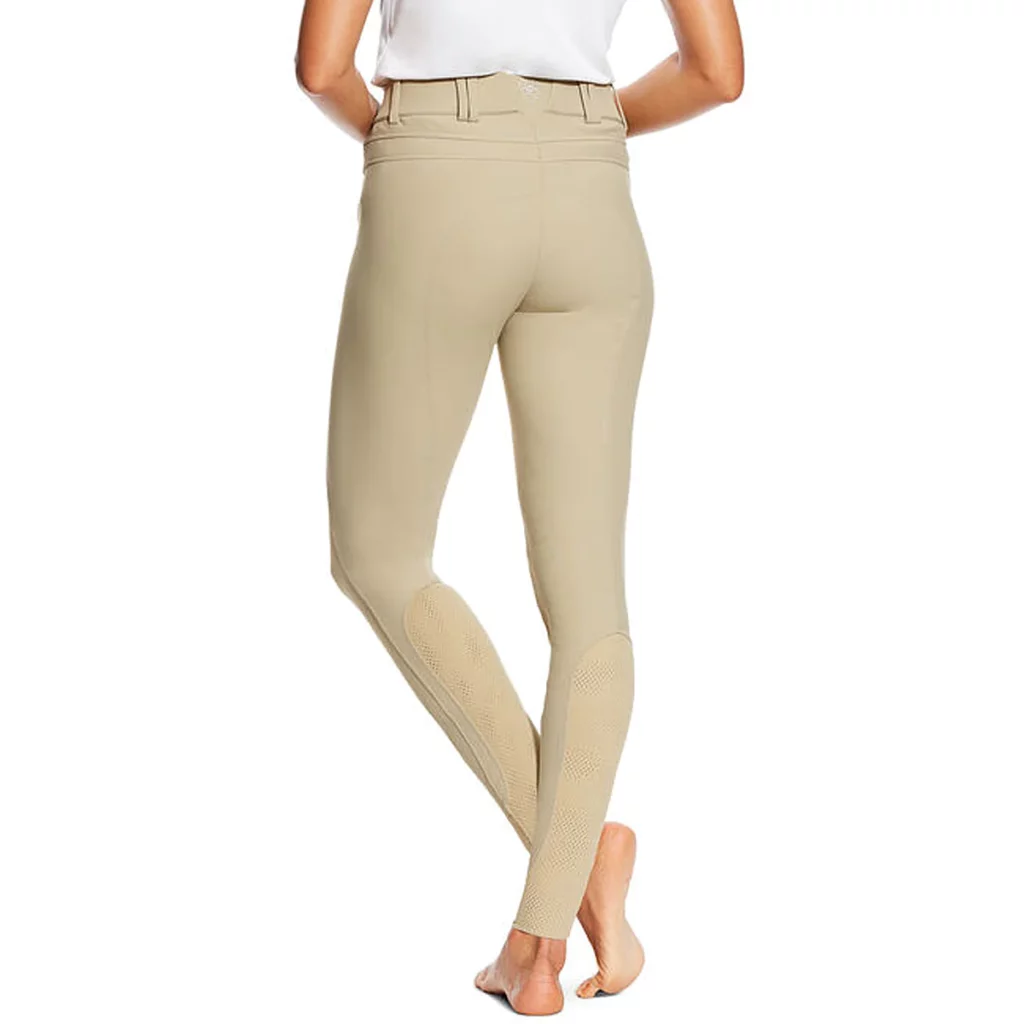 The Tri Factor EQ Knee Patch Breech delivers the perfect combination of compression and cooling, along with a sleek silhouette and timeless style.
Ariat Halo Breeches
Cost: $129.95
Colors:Marine, Black Rinse 
The Ariat Halo Demin breeches are super tough and stylish. The full-seat silicone grip gives excellent support in the saddle. The fabric is flexible and provides structured support with core control. 
New Spring 2023 Series–Breathe Tights
Cost:$119.95
Colors: Black, Beetle
The new breath collection is designed with the rider's athleticism in mind. The perforations at the back of the wide waist-band, on the sides of the legs, and behind the calves provide continuous airflow during your rides. These tights are also sustainably sourced from recycled materials.
See all of favorite pieces from the Ariat Breathe collection.
Ariat EOS Tights
The Ariat EOS Full Seat and Knee Patch tights have all the best features of a perfect riding tight. They're stretchy, comfy, and flattering and feature a contouring wide waistband and pockets on each leg. 
Cost:$109.95Colors:Black, Navy, Blue Opal Bit Emboss
Cost:$99.95
Colors:Navy, Black, Zinfandel Bit Emboss, Blue Opal Bit Emboss 
Ariat Ascent Tights
Cost: $129.95
Colors:Black, Navy 
The Ariat Ascent tights are designed for comfort on and off the saddle with flat seams to prevent chafing and compression to support your muscles and joints and enhance your range of motion. The lightweight and breathable fabric keeps you cool in hot weather, while the secure grip ensures you stay firmly in the saddle. The tights also flatter your figure, ensuring you look sharp and stylish at all times.
Find more of your Ariat Ascent favorites in our Ultimate Ariat Ascent Apparel & Gear Guide.
These riding breeches and tights are just a few of the Ariat styles we love. Refresh your entire spring show season wardrobe with the top Ariat show styles for this season or find the perfect Ariat gift for your equestrian friends.   
Be prepared to ride rain or shine this spring season with Ariat equestrian rain gear, and get ready to face the summer heat in the saddle with the best summer riding outfits from Ariat.