Ariat has created yet another show-stopper of a boot–the Ravello tall boot. After testing Ariat's new Ravello boot, it's now one of our favorites. And with so many quality riding boots to choose from at The Farm House, we don't pick favorites easily. We could hardly contain our excitement about the Ravello, so we decided to let you in on all of the reasons why we love this new leather tall boot.  
What is the Ariat Ravello?
The Ariat Ravello is a beautiful tall equestrian boot hand-crafted in Italy from Italian calf leather. Its design is traditional with a modern twist. The boot is super smooth to the touch and sprinkled with lovely little details, from the black enamel fixtures to the Spanish-cut topline. As is characteristic of all Ariat riding boots, the Ravello is the perfect blend of performance and elegance. It was thoughtfully designed for the equestrian as an athlete and showman with a sneaker-like feel and luxurious, contoured fit. 
Who is the Ravello for?
The Ravello is the perfect tall boot for all types of competition–hunting, jumping, or dressage–at all levels of experience. It's a great boot for both novice and international-level equestrians. The soft leather makes the Ravello very flexible and easy to move in while riding. 
What we love about the Ariat Ravello
If we had to sum up why we love the Ravello in just a few reasons, we'd say that it…
1. Fits like a glove
We aren't the only ones to describe the Ravello's fit this way because the comparison is so apt. From the sleek and smooth leather to the contoured heel and calf, the fit and feel of these boots remind us of a tall, smooth black opera glove. 
2. Feels like a tennis shoe
Ariat is known for making athletic riding boots with performance-enhancing features for stability, comfort, durability, and protection. Riding boots are an investment, so you should still love wearing them after a day spent riding, and you should feel confident in them during competitions. The Ravello boots sure made us look and feel great on and off the saddle. 
3. Breaks in easily
The Ravello boots feel great from the get-go and take little time to break in before they conform to your foot in the stirrup.  
Ariat Ravello fit and features
Here are a few of the features that set the Ariat Ravello apart. 
Duratread sole: the sole of the Ravello boots is designed for protection and flexibility as you ride. These boots are made to last, exactly as riding boots should be. 
ATS Luxe technology: the Advanced Torque Stability offered with the Ravello is a fancy way of saying that this boot is super comfy and supportive. The Ravello boots have a gel-cushioned footbed and heel stabilizer that keep your feet happy and help you maintain proper posture. 
Mobility curve: the Ravello boots have a curve behind the knee so they don't restrict your movement in the saddle. 
Full-length zipper:these boots have laces for good looks and full-length zipper practicality. They slip on and off in no time. 
Moisture-wicking sock liner: this small detail makes a huge difference. It's no secret that your feet get sweaty after a long day riding, but the Ravello's sock liner moves the moisture away from your foot so your feet stay dry and smell fresh. 
Ariat Ravello size chart
When sizing your Ravello tall boots measure your foot and calf and compare the measurements to the size chart below. The boot should follow the curve of your calf closely. If it doesn't, then you may need a smaller size.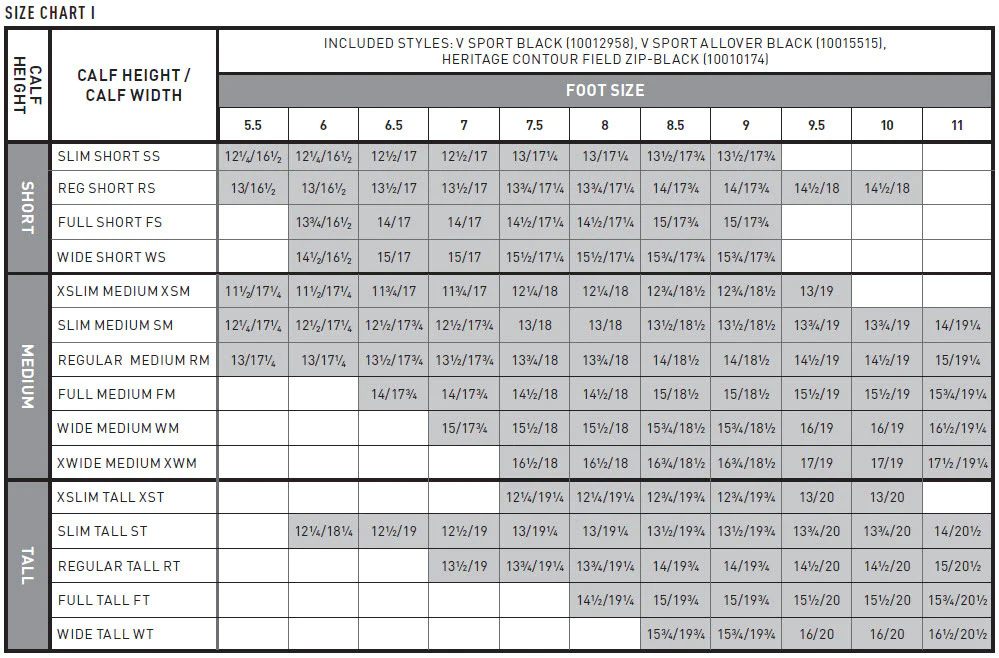 Ariat boots often run large, so it's a good idea to order down half a size. The Ravello boot is best suited for slender calves. To learn more about how to size your Ariat boots, read our Ariat Boot Sizing Guide. 
If you love the Ariat Ravello boots as much as we do and purchase a pair, learn how to care for your new Ariat boots so they stay looking as good as new. You can also choose from the best Ariat show clothes for the season to go with your new boots. 
At the Farm House, we've helped outfit riders with the best riding boots at all levels for competitions. If you have any questions on what you need for your discipline or in regards to sizing, give us a call at 864-457-3557, we'd love to help.
You may also like: