Finding the right pair of breeches is like trying to find your "glass slipper." The right pair will feel like they were made for you, while the wrong pair can throw off your groove. Enter Romfh. Romfh breeches are incredibly popular for good reason. These breeches are designed to fit women's natural curves and boost athletic performance. If you're looking for a new pair of breeches, let Farmhouse Tack be your fairy godmother as we share the magic of Romfh breeches.
What are Romfh breeches?
Romfh breeches are designed by Laura Romfh, a born-and-raised equestrian and distinguished fashion designer. Romfh equestrian clothing seeks to remain on the cutting edge of fashion while providing clothing that helps riders perform their best. Romfh clothing always features high-quality fabrics and superior fit for women of all body types. Equestrians are sure to find a perfect pair of breeches from their selection of different styles that suit a wide range of disciplines.
Romfh breeches best features
Here are some reasons why Romfh breeches make an excellent addition to your equestrian wardrobe.
Designed by women for women
All Romfh clothing is designed by female equestrians for female equestrians. Romfh breeches accommodate and accentuate a woman's natural curves, providing supreme confidence while riding.
Made for all shapes and sizes 
Enjoy a comfortable, versatile fit with Romfh breeches. These breeches are suitable and flattering for all body shapes and sizes. Stretchy fabrics help Romfh breeches fit like a glove and look great on curvy, muscular, or slender legs.
Superior performance materials
Romfh breeches feature incredible proprietary fabric that helps keep riders cool, dry, and comfortable, especially when the competition heats up. Romfh breeches are durable and long-lasting, which means you'll enjoy several competition seasons with these exceptional breeches.
Fashion-forward
The Romfh brand likes to lead the way in equestrian fashion. With Romfh breeches, you'll enjoy stylish designs that are as eye-catching as they are comfortable. Wave goodbye to outdated dressage outfits, and say hello to fashion!
Romfh breeches by style
Romfh offers several incredible styles of breeches to choose from, each with its own set of benefits. We've highlighted several styles of Romfh breeches below so you can find the fit that best suits your body type.
Romfh Sarafina Breeches
The Softtouch™ micro-PU fabric used in Romfh's Sarafina breeches makes them the softest and most comfortable technical option available. They're also stretchy and lightweight, but with plenty of substance to maintain a polished appearance for competitions.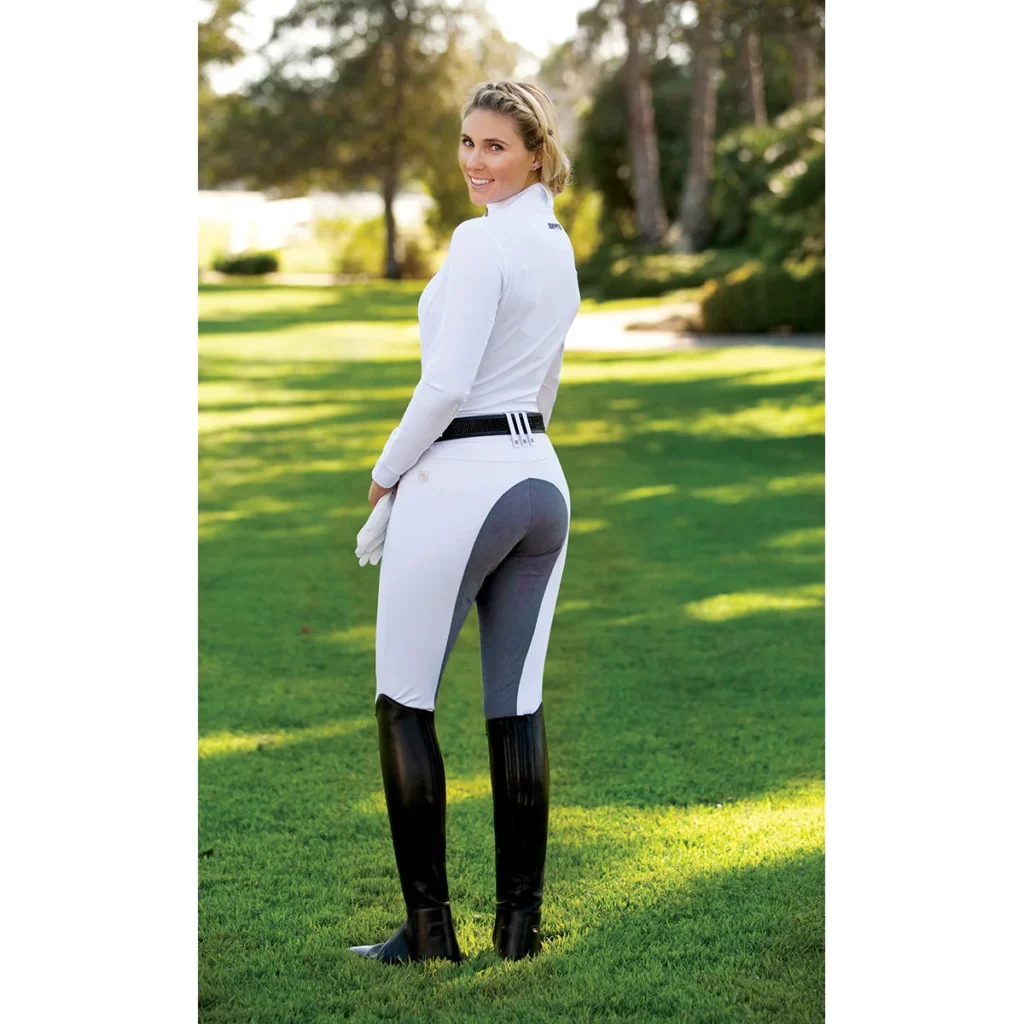 High–mid-rise, straight fit
These dressage breeches are the perfect blend of comfort and style. They feature a flattering contoured waistband, strategically placed back yoke and a wide non-binding design that enhances the appearance of your silhouette. These breeches also boast vertical stretch suede, akin to the prestigious European brands.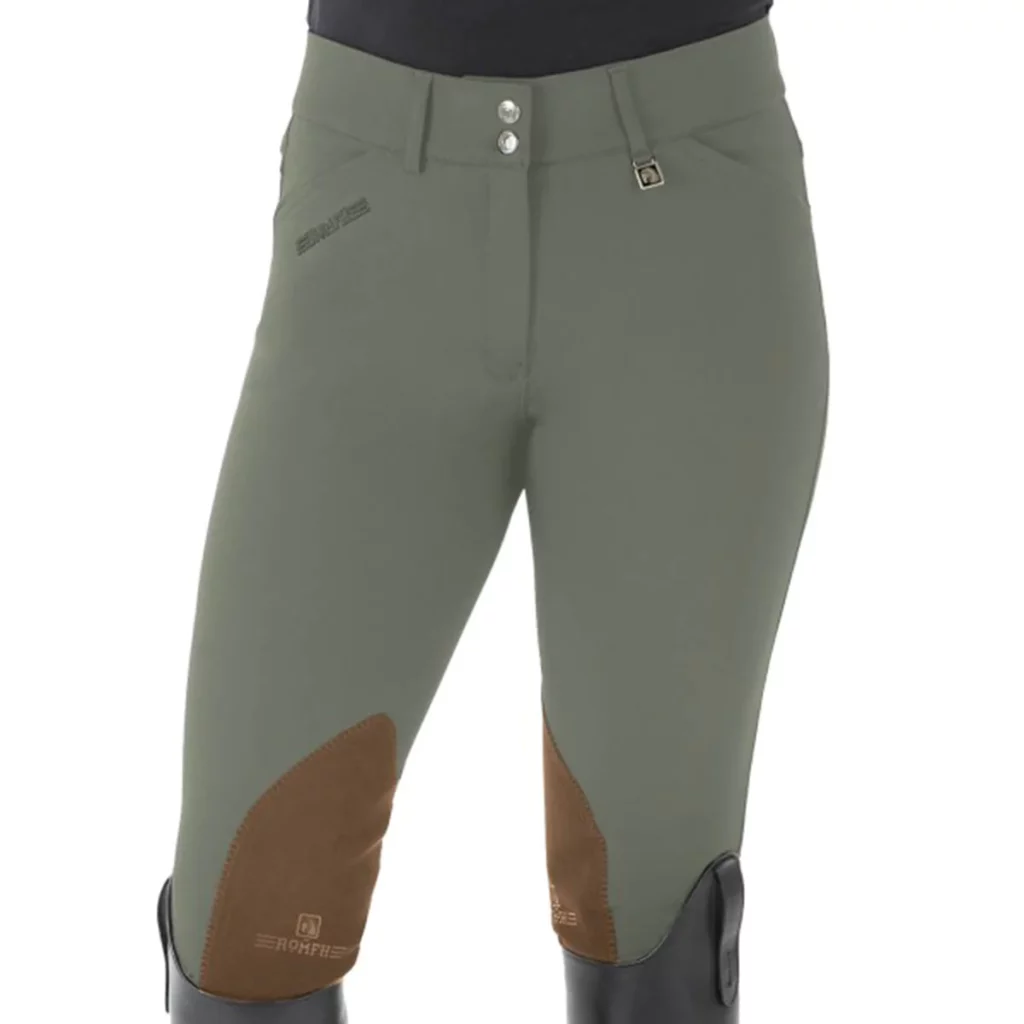 Mid-rise, straight fit
We can't get enough of these breeches–they offer unparalleled comfort and are incredibly flattering for your figure. The fabric effortlessly moves with you, providing just the right amount of stretch to remain flexible without losing its shape throughout the day. The mid-rise design of these breeches ensures an outstanding fit, complete with a contoured waistband that flatters your shape. 
Romfh Champion Breeches
The Champion line features a hardworking, durable fabric called Dura-Dry. Made from a durable blend of cotton and stretch micro-nylon, this material provides long-lasting endurance while still being lightweight and comfortable. Even on the hottest of days, you'll feel dry and cool, thanks to its exceptional moisture-wicking properties. Additionally, the performance fabric helps regulate your body temperature, ensuring optimal comfort throughout your activities.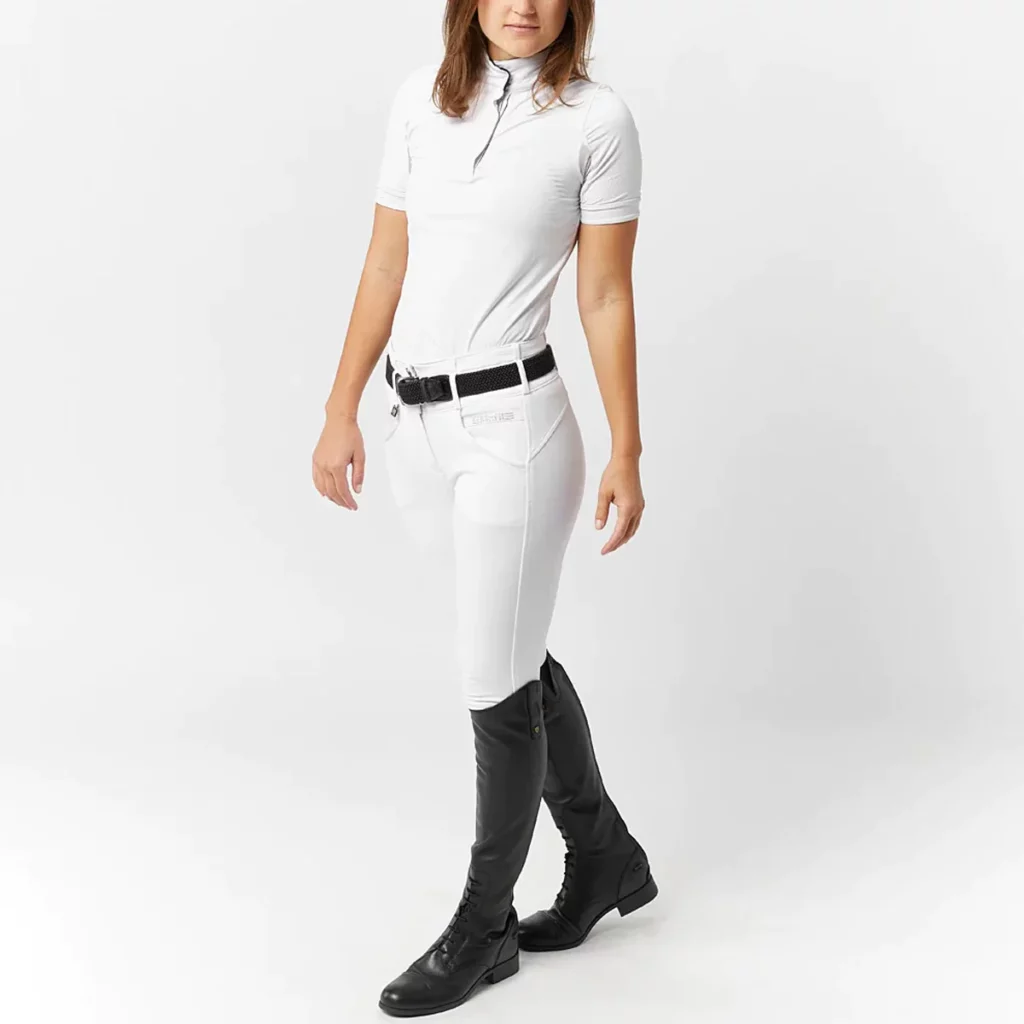 High-rise, curvy fit
The Romfh Ladies Champion Full Seat Breech has captured our hearts for multiple reasons. Not only was it meticulously crafted for dedicated equestrian competitors, but it also caters to a wide range of body types. Designed with a curvy fit in mind, the Champion embraces natural curves like a dream. Its high waist and ample room in the hips and thighs are specifically tailored to flatter those with hourglass figures. Though they have a thicker feel, these breeches can be worn comfortably during all four seasons.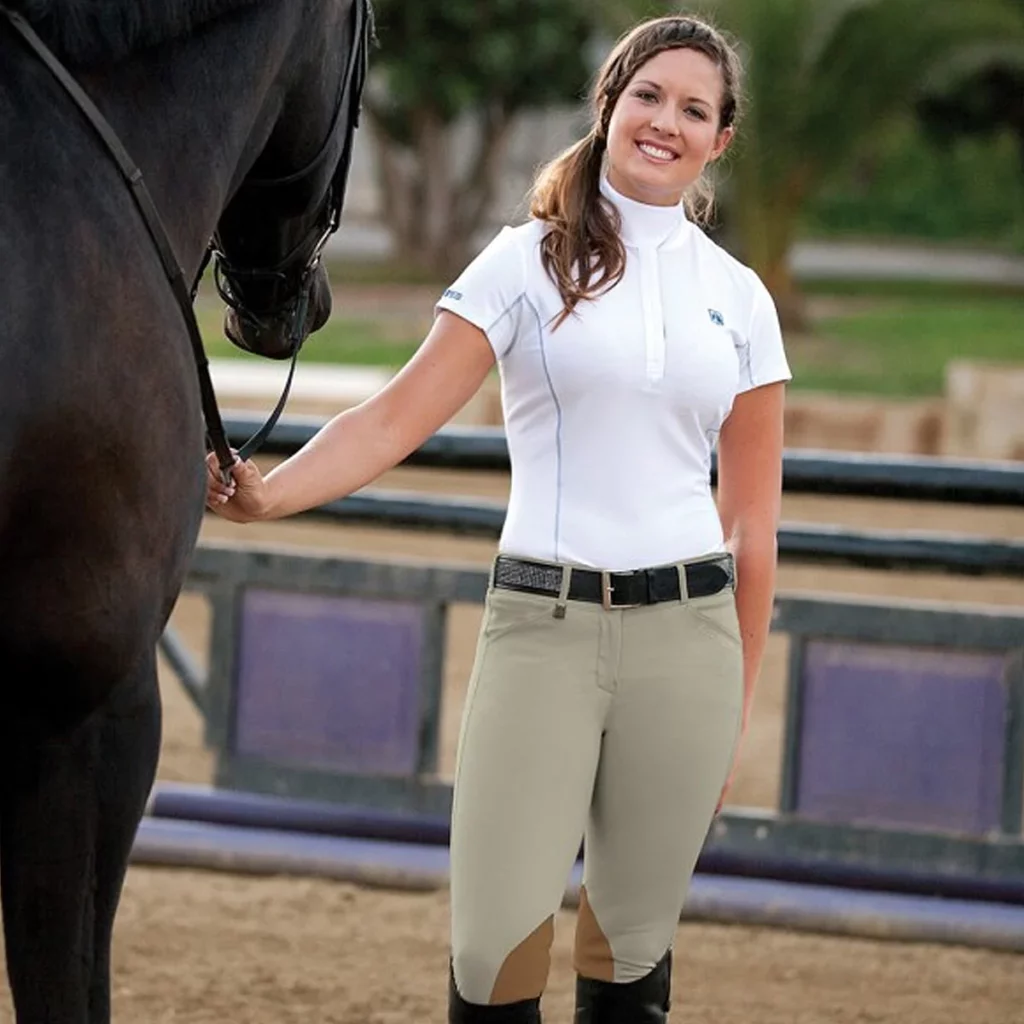 High–mid-rise, curvy fit
The Champion Euro Seat Breeches have a special cut that eliminates any unsightly "gapping" at the back waist. This cut is tailored to cinch in at the waist while providing a more generous fit through the seat and thigh area. It's the perfect solution for those with curvier figures. With a convenient two-button mid-rise design, this breech offers both style and functionality. Made from a lightweight woven fabric with added stretch, it ensures comfort and a flattering fit, complete with stretch ankle for ease of movement.
Romfh Isabella Breeches
The Isabella breeches blend the best parts of the Sarafina and Champion breeches to create an extremely comfortable, flattering option. The Isabella breeches are made with the same Softtouch™ fabric as the Sarafina breeches and feature the curvy fit of the Champion breeches.
Isabella Full Grip Silicone Full Seat Breech
High-rise, curvy fit
The Isabella breeches offer a comfortable high-waist fit that helps keep shirts tucked even on the most technical of rides. Designed with the needs of top-level equestrians in mind, this breech provides a secure grip in the saddle. Instead of a full-seat layer that can add bulk, the Isabella features a silicone print on the seat, ensuring a reliable grip without compromising on comfort or mobility.
Romfh breeches sizing 
Romfh designs breeches that flatter all shapes and sizes. To find your perfect fit, first measure your waist, hip, inseam, and rise using the following steps. 
Waist Measurement: Locate your natural waistline, stand straight and relaxed, and then wrap the measuring tape around your waist. Ensure the tape is snug but not tight and parallel to the floor. 
Hip Measurement: Wrap the measuring tape around your hips at the widest points. 
Inseam Measurement: This measurement determines the length of the breeches. Stand with your legs slightly apart and measure from your crotch down to the desired length, usually where you want the breeches to end. Make sure the tape is straight and firmly against your inner leg. 
Rise Measurement:The rise measurement is more a matter of preference than accurate fit, but is still important to know if you want a great-fitting pair of breeches. Start wearing your favorite breeches and measure from the crotch to the top of the waistband.
If your hip measurement is more than five inches wider than your waist measurement, the curvy fit of the Champion or Isabella breeches would be best for you. However, if your hip measurement is less than five inches wider than your waist measurement, the Sarafina breeches would be a great fit.
If you have long legs and a long inseam measurement, the Sarafina breeches will be a great choice for you, especially if you order a long size. If you have shorter legs but want to look like you have long legs, try the Isabella breeches; the shorter inseam and high-rise combination helps visually lengthen your legs for a beautiful look.
Romfh breeches are a dream come true
If you're looking for a new pair of breeches for your equestrian wardrobe, give Romfh breeches a chance. No matter your discipline, Romfh has the perfect pair of breeches for you. Experience the magic of the flattering fit and superior material that comes with a pair of Romfh breeches today.
Want to learn more about Romfh clothing? Give us a call at 864-457-3557 – we're happy to help! Our team is made up of experienced English riders who have a thorough understanding of the products we carry.
You might also like: